VALE BRU, THE BEER WITH JUST A TOUCH OF SEXISM AND A DASH OF MISOGYNY
Date: 2018-06-08
---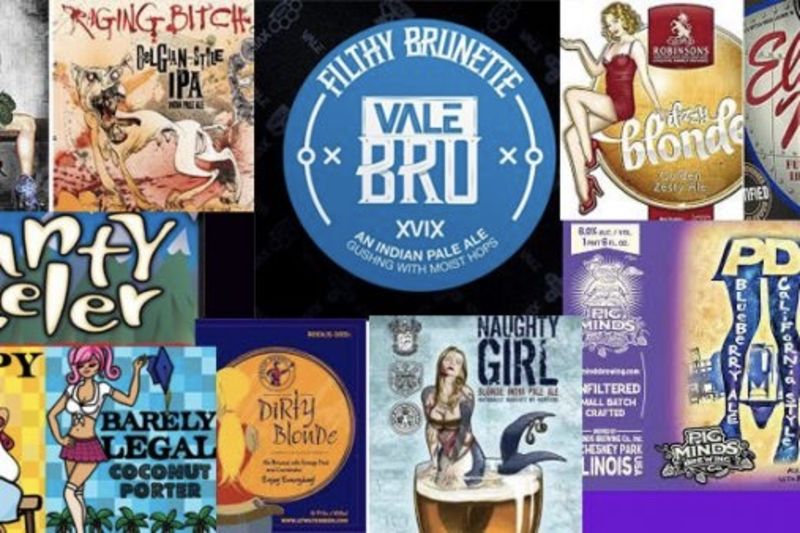 Its always been clear that beer is a manly drink and, while there are a few females that do actually enjoy a beer, all of the advertising is aimed at men specifically (subtle sexism). But this brand of craft beer didn't hold back at all.
A Johannesburg based craft beer company is being heavily criticised for their new marketing campaign with its outrightly sexist adverts. Vale Bru promoted its "moist" and "gushing" range of beers last week (um... eeuw) and named their beers "Filthy Brunette" (an Indian pale ale) and an "Easy Blonde" which contains a description saying 'All your friends have already had her'. A few of the other beers to name and shame are the "Raven P*rra" (an offensive slang word for a Portuguese person) – "A porter with the best head in town" (again... eeuw) and the Ripe Redhead – "Previously a Ginger P*key" (stigma for people of the Traveller community).
The women of the craft beer industry expressed that they were more than displeased with the angle that Vale Bru had taken and even Thandi Guilherme, founder and author of the platform Craft Geek, wrote a blog post trashing the company and its campaign: "Sexy is not always sexist. Know the difference," was her advice "#Metoo, Rape culture and Trump's 'locker room' misogyny are not funny. These are real problems that society is trying to deal with. Don't go there."
Lucy Corne, the founder of The Brewmistress, compared the owners to a bunch of 14-year-old boys.
Mias Nel, a partner at Vale Bru, said that he didn't expect such an outcry over the campaign and said that they intended to make the names of the beers "gender neutral" and that the Easy Blonde beer has been on the market for quite a while. They decided to change up the campaign resulting in the explicit sexist names and descriptions and admitted, "we did the wrong thing". They have now decided to collaborate with the ladies in the industry to get a lesson or two on sexism, which Nel admitted was noticeable in the industry. "We don't want to be cowards. We are really good guys," he said of himself and his partners.
However, Vale Bru claims to have received no pushback for using the derogatory Portuguese reference, saying: "In fact, my fiancée is Portuguese and she came up with it." The company issued a public apology on it's Facebook page but Guilherme was still unimpressed at the nature of the apology that seemed too flippant to be sincere.
She was quoted in Business Insider saying that Vale Bru has put themselves in a very difficult position: "They have a few loyal followers (who are often equally offensive and bigoted) [who] don't see the issue with the branding, while facing enormous pressure from the majority of us, men and women from all different industries, not just beer and brewing. Their best bet would be to rip the Band-Aid off, apologise sincerely, change the labels and get on with it. Being a craft brewer in South Africa is really tough and your reputation is one of your most important assets. If you want to be clever, like Nando's, you also have to know where the line is."
Despite the negative reaction Vale Bru received, they are not changing the names of their beers. The Edenvale-based company doesn't actually brew the beer, they merely re-label and distribute beer from the Swagga Brewery in Alrode.
With all the criticism flying about, the company responded with this statement:
"Our branding was intended to be provocative – to push the envelope to some extent – and until now, we've received an overwhelmingly positive response from both men and women. Contrary to how the piece portrays us, we are family men. We are all in happy relationships. Some of us have kids. We care about our community. It was our initiative that revived Horwood's Farm in March. The popularity of the Market has rejuvenated the Farm and we hope to do likewise with the nearby Skate Park.
"Vale XVIX is a branding company. Beer is merely a sideline of our business. Our T-shirts and caps are our main focus at the moment and they are separate from our beer brand. None of our merchandise refers to Vale Bru or to our beers. The comment by Phillipa from Darling Brew is therefore misplaced.
"Yes, our beer branding is edgy. There will always be some who see it as crass. But there are plenty of others who appreciate the playfulness and the sexual innuendo. We have never used any lewd images, nor is our branding derogatory towards women or any other group. We categorically reject the promotion of misogyny, sexism, racism and rape culture. In our view, the article is deliberately sensationalist and inflammatory.
"However, we're not turning a blind eye to the criticism. We acknowledge that we erred by assigning a gender to some of our beers in certain Facebook posts and for this, we have already apologised. We'll re-consider our beer descriptions. But we intend to retain our beer names. An easy blonde can be a man or a woman. So can a filthy brunette.
Thank you to all loyal Vale supporters and customers. To them we say, rest assured, we won't be deterred from developing our brand and from continuing to make a contribution to the Vale community."
Most people consider risky marketing simply dipping their toe in the water of borderline inappropriate but these guys did a full-on bellyflop in the "DO NOT TOUCH" pool. These guys should brace themselves for the sh*t storm brewing on the other side of the brand.
What do you think of this debacle, leave us a comment below.