VIDEO: ARIANA GRANDE AND PETE DAVIDSON'S WHIRLWIND ENGAGEMENT!
Date: 2018-06-14
---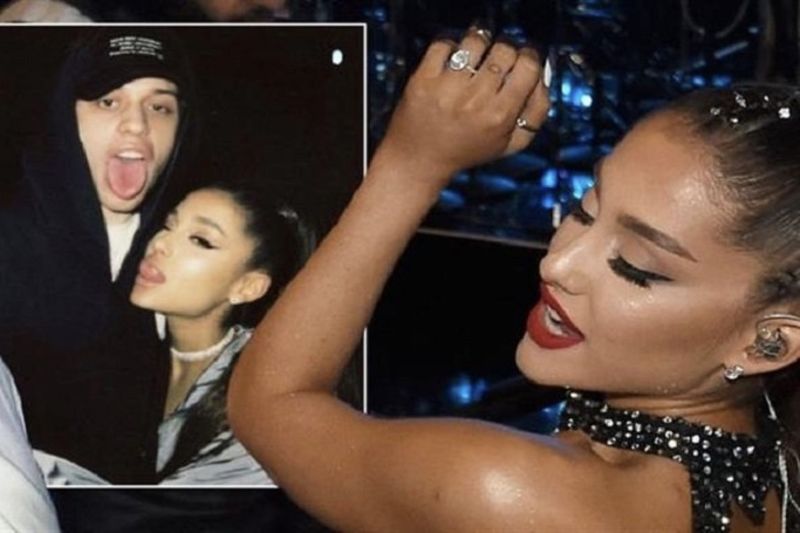 We all have friends who tend to move exceptionally fast in the dating world, they may even bust out the L word on the second date. But Ariana Grande and Pete Davidson take the cake for this one as they are reportedly engaged after dating for just over a month.
The two met for the first time on Saturday Night Live in March 2016 but the two were only spotted getting cosy in May 2018. Shortly after Grande broke up with Mac Miller as announced on the 10th of May 2018, the two started dating and have been all over each other on social media. Davidson also broke up with his girlfriend, Cazzie David, in mid-May after two years together and has since covered up the tattoo of his ex's face on his forearm.
Rumours started to fly about the budding relationship between Grande and Davidson on the 20th of May as Grande hit the stage at the 2018 Billboard Music Awards to perform her newest single, "No Tears Left To Cry". People reported that an "onlooker" saw Ariana and Pete backstage and seemed to be very close and "very lovey-dovey. He was hanging out with her and her friends with his arm around her. She seemed quite smitten." But after the rumours spread, sources close to the couple said that the relationship was very new and the pair had decided to keep it "very casual".
The pair started throwing hints as they were commenting on each others social media posts, openly flirting, but only officially made the relationship public on the 30th of May by posting a picture of them dressed in Harry Potter costumes. "The chamber of secrets has been opened ...," Pete wrote in Instagram. Ariana commented under the post, "U tryna to Slytherin (I'm deleting my account now)." Grande was seen wearing the ring for the first time on the 2nd of June and has been responding to fans tweeting about her engagement to Davidson, teasing at the fact the rumour may be true.
One fan said, "I hope he knows he is marrying us as well", Grande replied with "HAHAHAHAHAHH HES BEEN BRIEFED". She also told fans she was "happy" and "excited". Grande spoke out about her relationship with Miller calling it toxic and saying she is "not a babysitter or a mother and no woman should feel that they need to be."
Although this has come as a shock to fans, Davidson has reportedly been planning the ring since the end of May says jewellery Greg Yuna. Yuna came forward saying that, "Pete called me at the end of May and said 'Look, I'm getting a ring. This is what I want. And I told him that I had the right ring for him. He didn't tell me who it was for but told me to keep it a secret. He didn't tell me anything about it." Yuna claims that the ring took two weeks to make and took on a pear-shape that has recently become the trend and is also said to represent a teardrop, one of Grande's favourite emojis and a symbol of her latest hit, "No Tears Left to Cry."
A source close to the couple told People that, "It's a recent engagement. They're just two people who found love quickly and make each other happy all the time. They both started talking about it this past weekend. It's nothing they've been hiding."
Although the timeline of events is seemingly sketchy and we suspect that things have been under wraps for much longer than we thought, who are we to rain on their parade?