VIDEO: MOLTEN LAVA ENGULFS HAWAII DESTROYING EVERYTHING IN ITS WAY
Date: 2018-05-11
---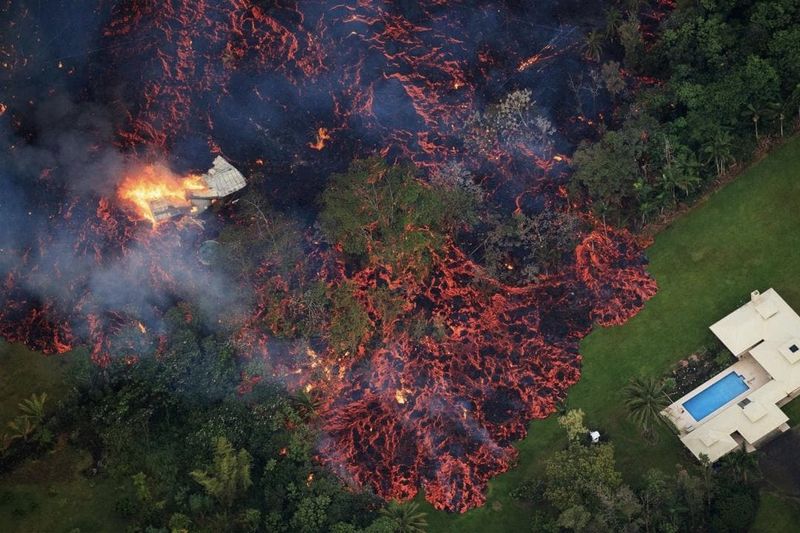 Hawaii's Kilauea volcano recently spewed molten lava, destroying nearby neighbourhoods and forests.
Not only is it destroying everything in its path without a way to stop it, residents now face the danger of the lava reaching the Puna Geothermal Plant, where flammable liquids are stored. Hundreds of people have been evacuated and the lava from the Kilauea eruption has gobbled up streets, cars and homes, with at least 36 structures destroyed so far.
The Hawaiian Volcano Observatory measured a temperature of 103 degrees Celcius at a crack in Leilani Estates on Wednesday. Temperatures were so high, it melted the asphalt road making it "mushy" from the heat. The amount of land covered by lava is similar to about 100 football fields. Geological experts are now warning of explosive eruptions because the lava is sinking in a lake inside a Kilauea crater, an introduction of groundwater could interact with the lava to create steam explosions. These explosions would basically shoot lava everywhere.
Although the lava looks like it is moving slowly, it is literally destroying everything in its path and can cause acid rain and sulphur dioxide, which is toxic for humans to breathe in. Volcanic smog – or "vog" – is created when sulfur dioxide and other gases from Kilauea Volcano come into contact with sunlight, oxygen, dust and moisture in the air. It is predicted that winds will weaken in the coming days, causing the smog to settle over the area, becoming more toxic. If it rains during those days – which is likely – it will become acid rain. The vog causes skin irritation, burning of the eyes, nose and throat resulting in respiratory distress and severe headaches.
Acid rain also contaminates water and kills all vegetation. The explosions predicted could result in explosive projectiles over six feet across, flinging the boulders up to 0.6 miles from the crater vent. So for residents of the Big Island, acid rain could actually be the least of their worries. This video shows exactly how destructive the lava is as it completely engulfs and destroys the car.