VIDEO: RYAN SEACREST GOES FULL SEXUAL HARASSMENT ON IDOLS
Date: 2018-05-19
---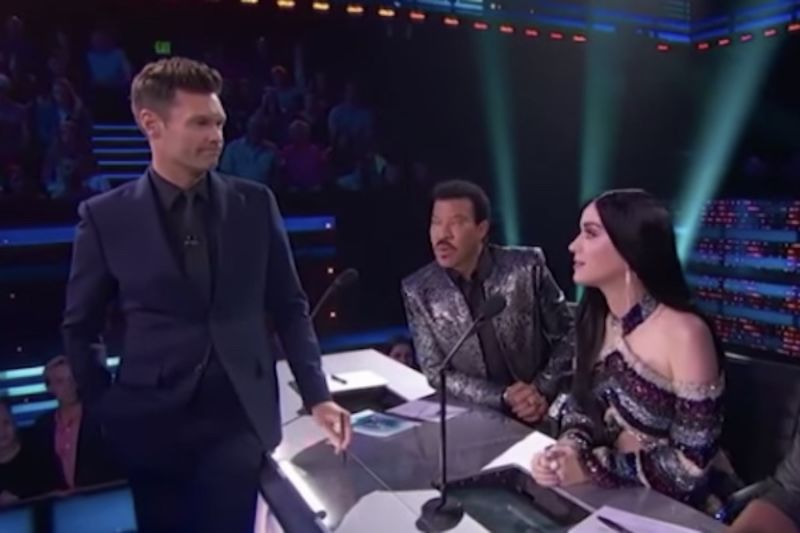 Apparently, Ryan Seacrest is having a hard time keeping it in his pants again.
.. He was recently accused of sexually harassing his stylist for six years but people got a true look into his extremely inappropriate and uncomfortable sexual aggression.
Seacrest denied the allegations, which were the dismissed after E!'s investigation of them in February by an outside counsel found "insufficient evidence to support the claims." However, live TV definitely seems to be sufficient in uncovering his true character as he was caught making some pretty awkward comments to judge Katy Perry while filming this past Sunday's American Idol.
As the show was transitioning back from a commercial break, Seacrest was seen hanging around by the judge's tables. The public is still trying to decide whether he was aware that the cameras were rolling or not but what he said to Katy Perry was strange nonetheless. The clip even starts out with her saying "We're on," as the cameras pan toward the host and judges. Seacrest ignores Perry's comment and responded with "Your mom's pretty." The singer jokingly responds to Seacrest's bizarre comment about her mom by saying, "My mom? Well, I hope the apple doesn't fall far from the tree." She then turns and winks at the camera making it very clear – again – that they are on live television. But it only got worse. Seacrest laughed and said: "You are too, but you're not a mom." Perry responds with, "Not yet." Then Seacrest said: "Do you wanna talk about it?" Lionel Richie immediately starts shaking his head and said: "Don't start." Perry seemed shocked and said: "What?" The judges laughed uncomfortably before the show finally moved on.
Fans appeared to be stuck by the awkward exchange and many of them took to twitter: "Katy Perry literally had to tell Ryan Seacrest that the cameras were rolling and he continues to hit on her, asks if she's a mom and says "you wanna talk about it??" after she says no. what's going on I'm uncomfortable?" AND "What was with that creepy #AmericanIdol moment with Ryan Seacrest just now? I am so uncomfortable." Some even seemed used to Seacrest's sexual advances saying: "Well I guess we all know now that the sexual harassment claims against Ryan Seacrest are true as hell. I'm still creeped out."
This incident comes to light despite Seacrest dating Shayna Taylor and Perry is currently dating Orlando Bloom "What?" The judges laughed uncomfortably before the show finally moved on. But Twitter did not. Idol fans tweeted about the uncomfortable exchange so much that it went viral.